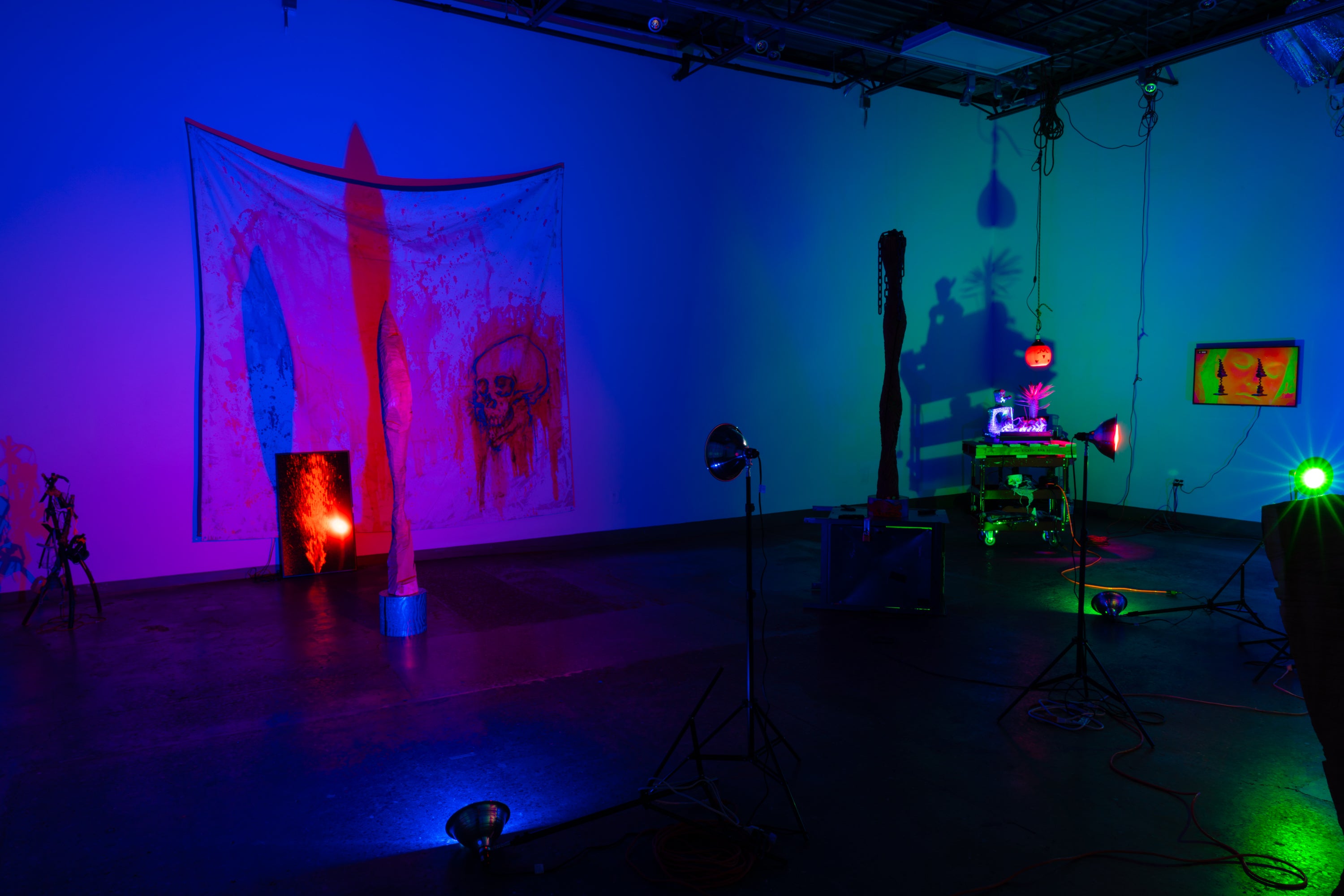 A degree in Expanded Arts
"B Movie (Installation)," Justin Rodier, MFA 2021.
A transdisciplinary approach to art-making
The Expanded Arts program at the Herberger Institute for Design and the Arts is conceptually driven with a transdisciplinary approach to art-making. Our broad-based curriculum builds on theories of socially engaged art practice and tactical media that carry the aims of social change and democratic engagement in a variety of contexts. Students are empowered to explore new avenues for self-expression, collaboration and community action. Coursework develops students' understanding of themselves as situated, contemporary artists as they learn to analyze significant cultural movements, national and international, from the present and from the recent past. The program covers a range of traditional and emerging forms and orientations reflecting the professional practices of the growing team of faculty members. Currently there is an emphasis on performance, installation, 3D printing, digital sculpture, public and place-based art, digital animation and experimental and documentary video. Faculty also teach special topics including a recent studio/seminar on walking as art practice and another that investigates the engagement of women in the field of art and technology. Collaboration and study across other areas in the School of Art, including sculpture, fibers and photography, are encouraged and supported.
Explore our Expanded Arts programs
Meet our Expanded Arts faculty
Direct questions to program coordinator
Partnerships
Opportunities in partnership with initiatives across the university are abundant. Within the Herberger Institute for Design and the Arts these include the ASU Art Museum and International Artist Residency Program; the PRISM Lab (Partnership for Research in Spatial Modeling); the Institute for Humanities Research; the School of Arts, Media and Engineering's Synthesis Lab; and many other possibilities in all areas of arts and design – Dance, Film, Music, Architecture, Theater, etc. Our students also work with other ASU schools, institutes and programs including but not limited to the Julie Ann Wrigley Global Institute of Sustainability; the Museum of Anthropology in the School of Evolution and Social Change; the Hispanic Research Center in the College of Liberal Arts and Sciences; the School of Social Transformation's Women and Gender Studies and Justice and Social Inquiry programs; the Decision Theater Network with locations in Tempe and Washington, D.C.; the Center for Science and the Imagination; the Center for Film, Media and Popular Culture; and the School for the Future of Innovation in Society.
Valley outreach
The Expanded Arts program continues to achieve a high standard of excellence through our many community-based projects. Students not only exhibit at ASU but also take their exhibitions throughout the valley for community members to experience. The Expanded Arts program is always expounding upon ways to further develop community programs, including internships at prestigious local art museums and connecting students to local startup companies and nonprofit organizations
Additional resources and opportunities
A 3D scanning and print lab at the Grant Street Studios in downtown Phoenix features cutting edge technology for 3D scanning, animation and prototyping. School of Art graduate students staff the new facility and have the opportunity to collaborate with interdisciplinary partners within the University as well as with local and national industries and the Phoenix community at large.
On campus, the ASU Art Museum's nationally recognized collection and contemporary programming, along with events held on campus (e.g., TeleSculpture, VideoNite, Live Art Platform and the Museum of Walking) are important resources. In the community, Expanded Arts hosts the Documentary Video Art Festival each semester at the Scottsdale Museum of Contemporary Art. Farther afield, many ASU students and faculty participate in SIGGRAPH, the world's largest conference dedicated to computer graphics and interactive techniques. Online there are two ongoing video archives on Vimeo: ASU Experimental Video Art and ASU Documentary Video Art.